Kittens and Cats available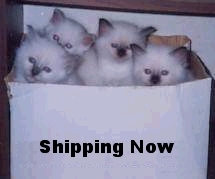 Kittens currently available
Cats currently available
We live in Hillcrest, Queensland, Australia. We have a small number of kittens available each year.
All kittens are reared in our house as family members, are vaccinated and guaranteed healthy.
Kittens do not leave our home till they are ten weeks old, but by this age they are weaned, litter trained and ready to bond with their new families.
Costs: A Birman will cost $1300 for a desexed, vaccinated, micro-chipped pet-quality kitten, and $1600 or more for a breeding-quality kitten.